How to Start a Car Rental Business Using Our Readymade Airbnb Clone Script?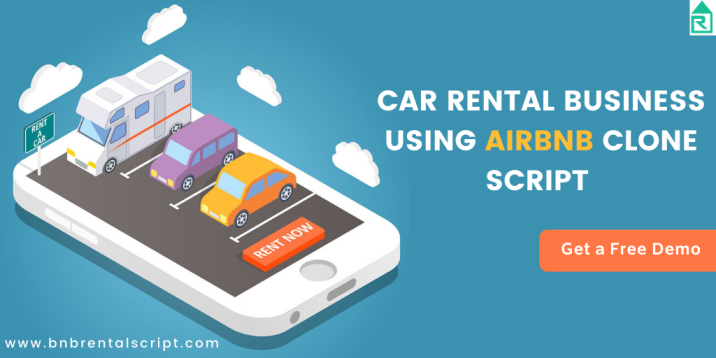 Do you have a plan to start your own online business based on the B2C model? maybe there is numerous B2C business in the market but only a few businesses tasting the success. In that way, Airbnb is the foremost business model to obtain more profit within a short period of time. While aiming the replication success of Airbnb is a wise idea for budding entrepreneurs. Choosing the right Airbnb clone script is the factor for the most successful start-up.
What today's a hot topic in Airbnb? Absolutely, the car rental industry occupying a huge profit with less investment. In recent times, a lot of rental businesses started to translate their business into the online market after the success of ride-sharing like uber.
While being an entrepreneur, it is better to rent the product than earning ownership. It provides profit as well as comfortableness in the business model and it also named as renting and sharing economy. Past few years, the car rental industry has been growing to extend with deviate. To thrive in the car rental industry, self-driving is the on-trend renting for users
According to a survey, the car rental industry except to grow 15% CAGR within 2019- 2025. Therefore, Airbnb is the best idea to start a car rental business in the market.
Before starting the car rental business you must note the following topics...
The business model for online car rental marketplace
Car rental marketplace using Airbnb clone script Revenue Model
Kinds of users who are participating in a web portal
The 5 key components you have to focus on a successful car rental business:
Swathing it up
Let's start with a business model and discuss how people are earning profit from it
The business model for online car rental marketplace
In a business model, when it is free you can also rent your car on a website like Turo and so on.
Renters can pay the fee for the time they spent on cars. This method of business is easily accessible and profit gaining for both renters and owners. This business provides not only for the car but also for all transport like boat booking, vehicle booking, bike booking and much more by using this platform, the owner can get a commission from each product.
Car rental marketplace using Airbnb clone script Revenue Model :
Booking fee commission:
In the web portal, owner can fix the amount to a renter for each product made the booking in the list of purchases.
Off-site online ads and car listing promotion:
For more booking from renters, owners can pay some more amount to provide the banner or other advertisements for their website promotions
Car owner subscription deal :
Through smartphones, Users are able to access features like GPS tracking, sensors, hydro-static locks to secure car sharing for regular booking or safeguards for car parts the yearly/ monthly subscription can be used.
Related: How Much Does It Cost to Build a Website Like Airbnb from Scratch?
Kinds of Users Who are Participating in a Web Portal:
Car Renter:
Users who are looking for car rental they can search according to their needs of requirements for riding in the web portal and User can settle the amount before or after their ride.
Car owner:
Once renter list their requirements with a cost for the car ride, the car owner gets a notification in website panel and also car owner can disapprove the request from renter when the non-availability exists
Admin:
Admin can manage all process from content to listing management which taking place in website and admin have a rights to manage the renter booking with reports
Characteristics of Car renter:
1.Reservation:
The renter can register via email id

Verification link via email ID

Via social media platform like Facebook and so on

And also mobile number verified with OTP
2."Remember me" option
3.Login
4. Forget password option
5.Account management
Password management

Account Life cycle management

Emergency access management

Auditing and reporting management

History of trip

Rebooking past trip

Reviews, rating to give and view

Status of booking
6.Cancel of booking:
Cancellation of reservation and status of a booking
7.Car facilities:
Location

Ride date and time

Drop date and time

Model of car
8.Listing page search
9. View page
10. Car renting detailed page view
11. Help
12. Blog and Videos
Below video explains to make money on Turo by renting your car
Video source: Money at 30
Characteristics of Car Owner:
1.Registration:
The owner can register
via email id

Verification link via email ID

Via social media platform like Facebook and so on

And also mobile number verified with OTP

Subscription package
2.Login:
Change password

Profile management

Editing management

Manage security
3.Booking details view:
Previous booking

Viewing product details

View renter review and ratings

Template generation

Booking alters

Update version
4.Bookings:
Approve booking

Reject booking

Waiting list
5.Canceled bookings:
Search filters

Search date and range

Car rental model search
6. Car details viewing :
Rating and reviews of user

Number of bookings

Price range

Filters of choices

Payment mode

Type of product
7.Car listing:
Car brand details

Car features and specification

Photos of car

View Availabilities of passengers
8.Details of car renting
Hourly cost

Weekly cost

Daily cost

Monthly cost
9.Booking options
10.Payment option
Characteristics of Admin
1.Manage renter and owner
Management of listing like delete, edit, create

Listing approve/ reject

Managing the particular location of renter

Managing car brand/specification
2.Booking management
Manage payment

Manage reviews and ratings

Dealing with banner advertisement

Manage the terms and conditions of the product
3.Manage subscription packages
4.Superimposing the reports
5.Manage email notification
The 5 key components you have to focus on a successful car rental business:
The above user features and business model are a partition in business, you have to add such traits to your business design and work flow chart. In addition, add below strategies for our standing car rental business.
Don't forget to check the license of the renter

It is a good thing for renters and owners when typing up with valid insurance and service provider.

Assure the confirmation of ride timing because of the delayed booking no more useful for rental marketplace

Try to make process feasible, for both on-site and on-road get success in the market

Most profit term, provide mobile app for both Android and IOS user and web page too
Swathing it up:
If you have not started the vehicle rental business using the Airbnb clone yet? then it is the right time to start your successful career.
Besides, Your business able to obtain more profit when you think of the competitor's and customer's happiness and satisfaction. Implement the above features, components and business models in your business too and taste the success pride.
Curious? To start a Car rental business ( any vehicle) with our exclusive Airbnb clone scripts and Are you looking for website development or Mobile application for your Rental business? Feel free to contact us
Get a Free Airbnb Clone Script Here...
Call / WhatsApp: +91 6384088485
Email:[email protected]
Skype: Solution Monster
Live Demo
Copyright © 2020 Rentisto | All Rights Reserved