Build Your Online Restaurant Table Booking Website with our Ready to market Script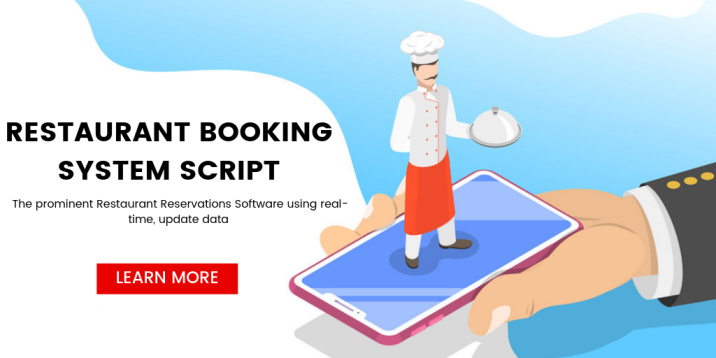 In this digital world, where people are bringing together for dates, anniversaries, parties with friends, lunch with families, outing with colleague its all seems to a dining table which would bring a lot of memories!!. In order to the restaurant owner to be advance organized, assign of a table, and trim the waiting time for customers. It is more important than a restaurant owner have to maintain and take responsibility for an eminent restaurant booking system
While having a restaurant reservation system with customers they need not make a search with others and they have the freedom to choose a restaurant as per their menu and location.
Moreover, the responsive website shows you a notification when the menu and seats are available in the restaurant. customer can make their own list of selection through the mobile app itself.
For your successful business, you need a day by day update in a website which customer expect much more so while selecting a website script you need to go research in Google but it list number of restaurant reservation system script. In that how will you choose the best one for your business? how do you select script within your budget? Fine, this post will guide you to choose a restaurant reservation script.
The impact of technology on the restaurant reservation system:
In olden days, restaurant reservation had been to start with managers, hostess, and other employees who attend phone calls and noted on handwork this took a lot of time from responsibility persons they are felt very difficult to clear the tables or unable to help customers. However, technology becomes advance so that more people started accessing the internet, companies utilize the chance to start a business on online restaurant reservation system which is helpful for both customers and staff. This software is created for the emergence of online booking on the restaurant, which can be made on the website, booking process, cancellation of booking, offers, special services and so on.
Why it's important to make a restaurant reservation:
Nowadays, the restaurant is more rush so finding the dining table is not that much easy. when you are going to your favorite restaurant, while making a reservation you will ensure a seat at the dining table. Hence, Don't forget to make a reservation at a restaurant before you move to your meal. Meanwhile, you will have a better experience for both you and a staff member of the restaurant
Benefits of restaurant reservation :
Normally, the restaurant keeps changing according to recent technology that impacts the customer experience. A customer wants to feel convenient dining and user-friendly with a mobile reservation are considered to be a top priority. In the restaurant, an empty seat is referred to as "open table" which enmity to the restaurant business. On the account of loss to a restaurant for paying electricity, utilities, foods and seats which unfilled. In order to avoid these kinda problems and to increase turnover, and to minimize the waiting of customer restaurant are decides to start a reservation process. Since it is beneficial for staff, owners, and customers
Make effective restaurant:
The restaurant reservation software helps your restaurant much more effective, by having your best reservation software, you can easily know how much stuff you'll need each time and will manage a rush to prepare your kitchen staff by using your ready-made data
A restaurant reservation system impacts a positive command to host, who takes care of upcoming customers rather than spending time in phone calls, taking notes. A customer has an advantage to book reservation through online and host need not worry about skipping customers from missed calls moreover you can communicate with your customer via text messages about reservation, cancellation, food order status, restaurant status and so on.
while having a customized reservation software, you'll able to protect from overbooking and double booking and you can access this restaurant reservation system through all type of devices like mobile, desktop and etc. In addition, if a customer decides to cancel their reservation, the system will cancel and add other customers automatically instead of the previous customer this method helps to save time, table, and a customer would feel free to book a reservation.
Make a customer to feel better experience:
Having a reservation software /script will provide you a more convenient, and make easy to add the functionality of an online booking system through website or mobile app. As technology increased, so that reservation might be grown faster than before. This kind of technology that leads to an advance booking in the market.
In order to modern technology, reservation is made through mobile apps, which provide an opportunity to reach your target audience more reliable with reservation booking, checking of availability of reservation, and operation by adding booking widgets in your website.
For loyal customers, making a reservation is much more easier one because no need to register again to website or app and already guest management have the customer's information so they won't collect the data like (birthdays, anniversaries, favorite dishes, allergies, etc.) simply he/she need to choose a time to reserve a table. This provides a convenient experience for loyal customers
To minimize the waiting time :
The reservation system not only for reservation but also for a dining experience to be enjoyable. When a function books at 5 pm on Sunday, they can expect to be seated at little time closer. so that remaining to the customer showing the notification and getting the guest into time closer that slot customer happiness that is sure to return us !!!
Online restaurant reservation :
In addition, the website owner can set up their business through an online reservation. there are numerous benefits for a customer to make online
For customers:
No time restriction allows 24/7 portable access
There won't be a necessity to make a phone call
Doesn't require a customer to wait for a long time to answer
They can research the restaurant review, rates, prices through online
For restaurant owners:
Reduce the time on talking through phone calls and taking notes during operation hours
Gives you the ability to confirmation or cancellation via emails
Converts more visits on a website which turnover to a reservation
Reservation process in one place
Overall to obtain all features in the restaurant you need a well -customized restaurant reservation software/script for your successful business. If you have a plan to start an online restaurant business then hire us .we will provide you a complete solution.
join hands with Rentisto for successful business
Live Demo
Copyright © 2021 Rentisto | All Rights Reserved