How to start a successful Pet Sitting business using Airbnb clone script?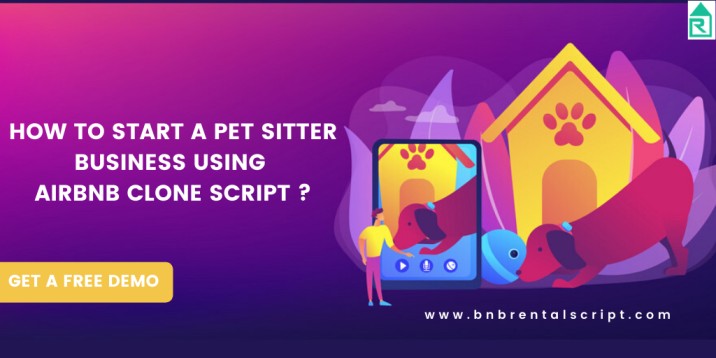 Rentisto providing unique Airbnb clone script/ software with website and app development for entrepreneurs who planned to start a Petsitter business. Before move ahead, let's look at Airbnb.
Airbnb aiming to change the world by offering unique services like Airbnb for Pet sitters, Airbnb for the camera, Airbnb spaces, Airbnb for food, laundry and so on.
In recent times, the most needed services are Pet sitter because many pet parents get scar to leave pets lonely at home and it is impractical to take your pets along everywhere. So many of the pet owner's concern was to find the right venue and take care.
Frequently, this needs is mandatory for pet owners though the long vacation or weekly outing. This powerful and practical on-demand service, providing niche business opportunities for website and app development.
Since 1994, the US pet industry has been increasing every single year. Approximately, $ 79.15 billion in 2019 as per reports.
Creating intrigue to start a pet sitting business using Airbnb? If yes, then this post for you
Table of content :
Pet sitter marketplace
Website business model for pet owners and pet sitters
Pet boarding Revenue model
Overview of website
Winding-up
Let's start..!
Pet sitter marketplace:
For vacation trouble-free, a pet sitter is the best marketplace to find the place for your pets and this marketplace connects pet sitter with pet owners who are looking for the right place. As a result of profit spinner, pet sitter is enlarging steady across the world.
Website business model for pet owners and pet sitters:
For pet sitters:
Login/ sign up
Listing services offering after creating a profile
Select pets which gonna care for
Schedule the care availability in a calendar
Advertise your pet sitting business
Make facilities like 24*7 care and online payments
For wider revenue, build a platform for all pets like dogs, birds, cats and much more.
For pet owners:
This online website connects pet owners with trusted sitters
Pet owners can search the best pet sitter through the profile
Book a space at any time and anywhere in an online pet-sitter website
A pet sitter can update pet photos and videos to pet owners.
Pet boarding Revenue model :
According to the revenue model, a pet sitter can earn more profit when pet owners hiring your platform using ads and professional profiles. By attracting new clients and pet sitters easily your website would increase the growth. Therefore, the following impacts show the profits:
When the booking is confirmed

Make an advertisement for your product

Profiles promotion
Website overview:
A pet sitter website should have a standardized design. Keep your website user-friendly on both mobile and desktop and try to make a good look. Make mandatory option that is needed to search in sites. Now, for creating a perfect pet sitter websites lets have a step by step features here.
Main page layout:
According to business, a website is everything to know about your product details and the user should get an idea from your website. A web design create a unique trust for your product among the user and also website design creates user engagements in market
Create form and option on the website, which user can easily contact you for a sitter and carry link like sign up/ sign in and help option
Sitter featured:
In a market, your domain protracts your forth figures that might be beneficial in the shown studies. The top featured of the sitter website is to connect with users instantly. For pet needs, the number of successful pet owner and clients help the visitor to hire.
Feedback:
From pet owners, the pet sitter site should collect the reviews and ratings for better conversation rates. This type of option frequently creates trust among new visitors and customers and don't forget to get coverage of the social media platforms. By adding the feedback option On your website sure, it adds the value in the market.
Sign up/ Sign in :
Accordingly, your website must provide the sign in and sign up function for sitters and pet owners using UX for easy account creation and management and to make easily convince for user provide sign up through social media or emails
Provide minimal form categorizes from user and sitters . just add email, password, name to sign up the account
Search:
On the pet sitter website, a search is a primary option to search the sitter, amount, place and so on according to user needs. Therefore, make a search option as prominent on the homepage that shows relevant results. The following create search options
Date and time duration

Nearby Location

Pin-code

Kind of pet
Pet sitter's profile:
On the website, the sitter's profile should be creating a unique design with information like service you provide, information, location, images and videos, reviews and ratings by other pet owners, rent availabilities and summary, so on. Other than this, there are options for customers to
Save sitter's profile

Make sitter's profile as a favorite

Chat or call sitters at any time and anywhere
The Below video describes how to start a pet sitter business :
Payments:
For sitters and users, create seamless payment methods that will create high engaging among the market. Provide user-friendly payments that customers can able to pay through conversation box, coins and any kind of accounts transfer and also provide some offer promo codes.
Online chat:
In the pet sitter platform, there must be 24*7 chat services for a user who unable to find the relevant mediums. And collect information like name, email id, Skype id from users. If you provide 24*7 online service then it might be a great choice.
Winding up:
When it comes to the pet sitter platform, there is a global revenue business like a rover, dog vacay, and paw shakes. so don't delay to start a petsitting platform.
Rentisto provides all advanced features to start a rental business on petsitter. Therefore if you are looking for exclusive Pet sitting software using Airbnb clone script or website and application development.? Feel free to contact us
Get a free Airbnb clone script here...
Call / WhatsApp: +91 6384088485
Email:[email protected]
Skype: Solution Monster
Live Demo
Copyright © 2021 Rentisto | All Rights Reserved