How to Start a Parking Space Rental Business with Our Ready made Airbnb Clone?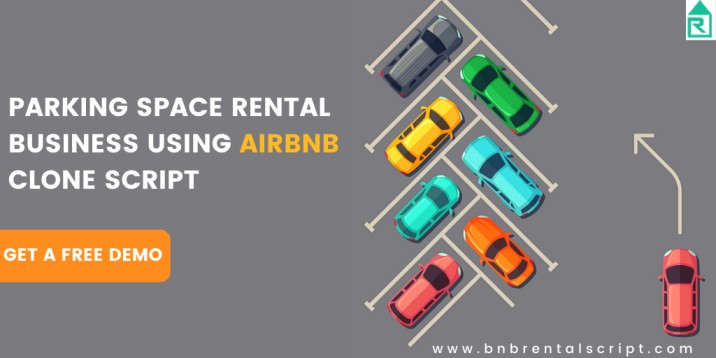 Airbnb is one of the most leading service providers for the rental business among huge technologies in the marketplace. In their single space rental website, they connect the guest and host for better interactions and to earn a profit.
Occasionally, Airbnb turned out to billion-dollar in the past few years because of its best services and uniqueness for short term online rentals platforms. Many entrepreneurs started parking rental businesses while inspired by the ideas and strategies of Airbnb. According to wish, the ideas and plan may vary among entrepreneurs but the Airbnb clone script is mandatory to start a successful business because Airbnb is unique, customizable, cost-effective and profitable.
The following topics gonna cover the blog:
What is the parking rental space?
How it works
Parking owner characteristics
Parking rental website revenue business model
Building a vehicle parking management software like Airbnb
Delightful Features of our Parking rental business script.
Wrapping - up
What is the parking rental space?
By the time, parking space is one of the most trouble facing in today's world. Absolutely, every year the number of cars owned by people goes increasing to an extent. Of course, the people of the population who own cars might be increasing as well every year. Hence, in this business model, the vehicle owners and host would connect with parking rental website
How it works :
Basically, this business model is based on the Airbnb, where host rents out the slotted space to guest this makes connectivity between them and normally they make connect with drivers to rent out their parking space for a specific duration
Of course, it works like this method
Guests can book the slots when the parking space owner lists the spaces and timing. This management helps the car owners, traveler so choose parking slots without stress and confusion. To build a parking management software, you need to know about the process of models
Parking owner characteristics:
Features of car owner:
Register/ Login

Profile creation

Ability to search space using filters

Reservation

Payment mode
Features of space owners:
Register/ Login

Profile creation with details of rent out spaces

User analytics

Managing rates and reviews

Providing offer and coupons

Managing the chats and calls

Responsive to user queries
Parking rental website revenue business model :
Undoubtedly, Parking rental business also generates revenue like other Airbnb rental marketplace as following
Transaction fee :
When the payment is proceeded by users to admin, some percent of the amount is transferred to space owners.
Membership model :
Parking management can provide membership for the vehicle owner and offers advantages like giving priorities to loyal customers
Commission:
The admin who is the management of the parking system takes the specific amount from the total booking of all users. this is how the revenue generates
Here is a video of How the Parking rental industry is highly profitable?
Building a vehicle parking management software like Airbnb :
There are numerous methods to build parking management software from reservations to payments. To build an exclusive software first you have to make the best business plan
Here are some common ways to create parking management software
Reservation and navigation:
This parking rental solution helps the user to find and reserve a vehicle for a slotted parking area. This software indicates booked navigation places for users and this software offers payment methods by card or cash as user wish. Most needed features can also be included like extra parking time and back to navigate to slotted space.
Functions of parking space Software :
It is easier to use, saves time and cost-effective when you have these kinds of parking space rental software.
An effective parking rental space software enhances vehicle name, number, license, user name, vehicle photos and so on and functions like real-time tracking, notification of timing limit of users and it manages both free and paid booking, customer targets, payment option and much more. At last, improve your brand loyalty and convection rate by focusing on experienced user
As we know, In urban cities getting a parking space is the most difficult one. If you wish to make a solution for this problem at the same time you wanna earn money means, you can start with the best parking space rental business like Airbnb
Leading parking management software- generates high level customized software. The parking space rental management software helps to increase revenue in your business with bug-free code and easy installation that suits the needs of customers and the market. Finally, with a safe transaction of payment methods
Delightful Features of our Parking rental business script:
Quick start:
The parking management software is fully customized and also the software can be customized according to users requirements and needs in the market with website theme can be changed to the most appealing display
Safeguard:
While starting an online business, there must be safe and secure transactions, user details and so on . in this perspective, our script made with more safety purpose for both guest and host
Responsive:
The main point to increase user volume, the script must be responsive in any device. Our script performs high-level user-friendly in all stages
User-friendly:
The admin and guest both have facilities to manage reservations and monitor easily.
Where admin can look into user performance and engagements in the dashboard and also where guest can get a notification, easy payments, see reviews and ratings of parking space
Timing based Booking :
In the parking website portal, the user can book parking space for an hour, a month just selecting the range.
Offers:
Grab your user by providing discounts and coupons option to increase your user engagements.
GPS tracking :
GPS tracking is essential for making parking rental websites easy to use. This helps the vehicle owner to track the location of space. Our script provides you GPS tracking facilities with advanced technologies and much more features
Wrapping - up :
Hope, the above information might be useful for your startup parking space rental business
And here, Rentisto offers free server installation, free app registration, 24/7 customer care support, 100% customized software with a bug-free, attractive website and so on
Time to Start a Rental Business with Rentisto's
Airbnb Clone Script = Free Live Demo Here
Call / WhatsApp: +91 6384088485
Email:[email protected]
Skype: Solution Monster
Live Demo
Copyright © 2021 Rentisto | All Rights Reserved