How Much Does It Cost to Build a Website Like Airbnb from Scratch?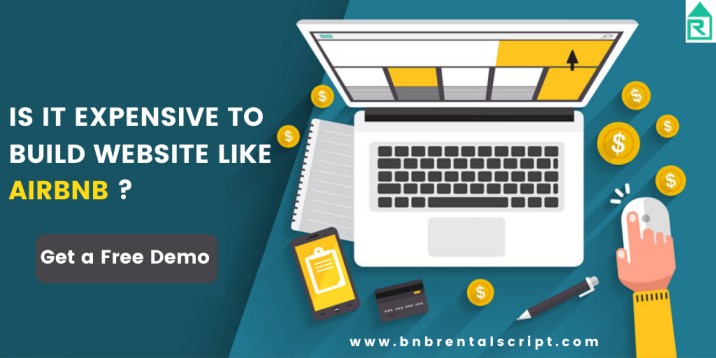 In recent times, the world has commutated beyond expectations. According to a survey, the billion of people are traveling for work or layoff. Normally, while we travel for outstation we need some facilities and comfortableness but it is so expensive to get such facilities in those days.
After the entry of Rentals, it is possible to utilize such facilities with reasonable cost and become more significant among users.
In that way, Airbnb becomes the most successful rental business because currently it dealing with 200 countries and moreover with 170 million users. Airbnb grants users to rent for houses, apartments, even rooms or particular spaces. Not only the profit player, but Airbnb is also the header of the global business market. This is the reason, many entrepreneurs are trying to start a rental business like Airbnb
if you have an idea to start a rental business to make a profit? fine, you are in the right place. In this blog, you will get some ideas about the Airbnb platform that you can implement in your business to obtain more profit
Outline of Blog :
What is Airbnb?

How do Airbnb works?

Airbnb business model

Core features of Airbnb

How much it cost to build a website like Airbnb

Winding-up
Before entering into cost of a website like Airbnb, Let's examine the Airbnb
What is Airbnb?
Though there might more travel websites Airbnb occupies a unique place for lodging. It is the part of a "sharing economy" when you are a traveler or you are finding a place for a month then Airbnb offers you a part of space or home or apartment instead of a hotel. In addition, Airbnb attracts the people who are looking for quarters or if you have an extra space or entire home that you're not using, you can rent through Airbnb to earn more profit from your guest.
How do Airbnb works?
In the on-site features, a host can list the spaces and guests can choose the right accommodation and also while the transaction takes place in the platform, both guests and hosts can connect. Whereas, Airbnb takes a 6% - 12% fee charged from guest and 3% from the host as commission
The below flow chart describe the works of Airbnb
Airbnb business model :
Normally, while travelling most of them face problems with accommodations. Airbnb unwraps problems to provides comfortable and unique accommodations where the place guest visit.
The success of Airbnb connected the people in the market like a traveler, tourists, and working people
The image which shows the detail business model of Airbnb
Airbnb like rental marketplace website:
To answer this question " how much it does cost of a website like Airbnb ?". while starting the rental business take a look for the following features which is the major position of cost.
Search filter custom:
Guests can search according to their needs and wants for their trip like location, date, time that filters the particular result.
Reservation model for the guest:
Guests can book their requirements and reservation and also they have the right to view the receipt, messages, updates, requests for reservation and cancellation of a reservation.
Manage reservation :
Guests can manage their reservations like add, remove, delete and cancel their bookings from any part of the location.
Host reservation:
In host reservation option, a host can accept or decline the guest request and host have the rights to message guest about the booking and cancellation process from the listing and also host can share the updates which guest need to know.
Viewing transaction :
The host has the right to track the complete source of reservation and also future reservation for the proof of reservation.
Messaging process :
The message process helps the customers to communicate with each other to know more about the reservation and also can track the location of the guest for further details.
Social media connection :
While the guest signs up, they can also sign up through facebook and google. This is brought out because they can save time from logging for new users.
Verification :
For further details, guest and host can verify their email and social media accounts. While logging into a website as a new user they can send verification code or link to the corresponding accounts.
Reservation management:
Admin can take over all actions between host and guest by implementing some action in settings of websites.
Refund scheme:
Once the cancellation process is taken over, the admin can refund the payments to the responsible guest.
Cancellation facilities:
There is a huge advantage, guest can cancel their reservation at any level and time.
How Much Does It Cost to Build a Website Like Airbnb from Scratch?
Depends on your requirements the cost website like Airbnb may vary. Besides, the factors also include the cost such as development team, technical tools, particularly design structure, count of platforms and much more
Normally, the way to create rental software like Airbnb is the most time consuming and elaborate to build a website. Scratch involves each micro parts of the website to develop. The below facts are to build for a website like Airbnb.
Domain name:
Basically, the domain cost is 10 to 5000 dollars in the rental industry. Depending on the seller or domain section the cost starts from 10 to 1000 dollars for registration. Normally, buying someone's domain is double of dollars than the usual cost.
Website development :
For the website, the cost from free to $ 40,000 and script cost about $ 300 to 700 where website development from scratch is starting fro, 5,000 to 40,000 dollars
Creation of content :
Normally, if you need a unique and outstanding content with photos and posts on social media platform then it cost $ 500 to 900 .you can hire a people who would do it for daily basis than preferring other sites content
Marketing:
For email marketing, $300 is enough but marketing your product on social media platforms , and other sites would be more expensive. While marketing to special people do forget to give promotion, gifts, and bonus
Employee:
For this, per month $1000. without customers and employees ( who serve the users) you could not create a website like Airbnb. Such a skilled employee can be hired for the growth of a website.
Payment services :
Basically, a payment service charges 300 dollars. you can charge some amount as a fee from a user while using these payment options on your website. This is the method to charge the fee form the customers like Google pay.
Mobile application :
For mobile application the cost starts from 3,000 to 60,000 dollars. Nowadays, without mobile application we would not run any successful business so if you wish a successful business, then consider the mobile application as a priority.
Finally, the cost of a website like Airbnb is varies depending upon the needs of the development process and policies
Winding up :
Hope, the above information might be useful for your business. Rentisto is the leading rental software development company that offers 100% Customizable & Open-source Airbnb clone script to start any kind of online rental booking business with Secure Admin panel, Better UI/UX, SEO Friendly Website, Mobile Responsive with high-end features.
Hence, if you have an idea to start a rental project, then feel free to contact us.
Get a Free Demo here, our experts reach you shortly.
Call / WhatsApp: +91 6384088485
Email:[email protected]
Skype: Solution Monster
Live Demo
Copyright © 2021 Rentisto | All Rights Reserved