How Airbnb Become King of Vacation Rentals globally?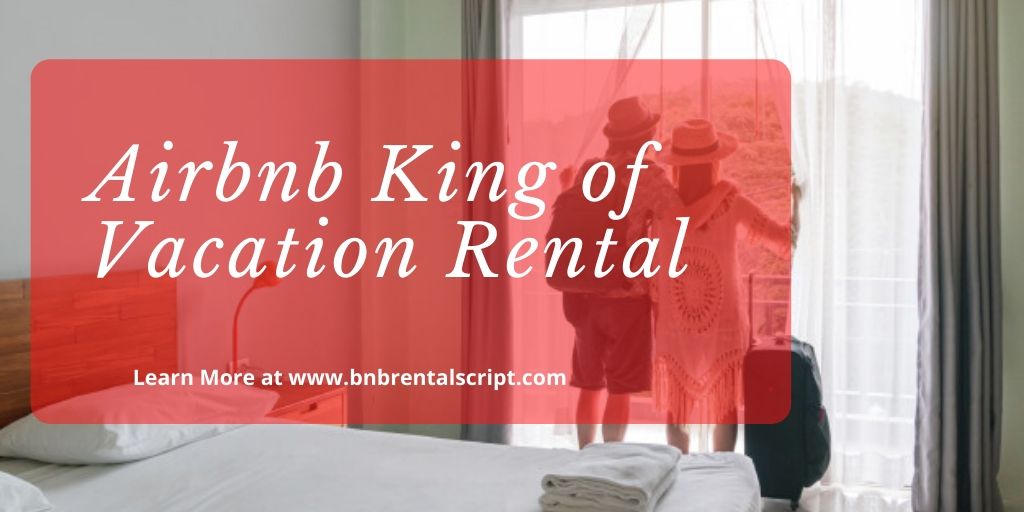 Airbnb is started in 2008, Two friends had an idea of changing their living room into a bedroom by laying beds in the living room is due to higher room rent at the markets and as result, students can't pay those rooms rents. As part of their idea, they started it as a business through an online platform in san Fransisco.
The way of their idea became popular among business persons who are in search of rooms for their business trips and conferences with minimal room rents. On the other hand, hosts who have an extra room at their home can be rented to the payable guests for a time they require it.
Overview of the Airbnb Business Model
The idea of Airbnb is quite interesting as they are not going to own any properties and nor they serve their guests, they are going to bridge the gap between hosts and guests. Airbnb significantly plays an important role in capturing the trend and delivers excellence to its clients.
Users prefer to Airbnb for vacation due to the Reasonable price tags that fit the user's demands. The users and the service providers are two important components of the Airbnb Business model, it needs the least capital. Airbnb Intensified to provide innovative service to customers and obtain great revenue for the business.
Airbnb Workings
Airbnb bridge the gap between users and hosts. Airbnb hires a freelance cameraman to take a high-quality picture of the resources listed. The user gets registered and logs in to the website and search, find and book the rooms available on the lists. Hosts can list their property with facilities available to the users.
The user requests for service, it will be confirmed from the host through a notification message to the users. After confirmation user pays the rental charge through available payment gateways on the website.
Revenue Source of Airbnb
Commission Fee from Hosts and Transaction fee from users.
Airbnb charges a flat 10% fee from hosts upon every successful booking made through over the website.
Airbnb charges 3% of the booking amount as a transaction fee from users against every confirmed booking.
The Airbnb charges guests a service fee between 5% to 15% of the reservation, while the commission from hosts is generally 3%.
Airbnb Pamphlet
Airbnbmag is a $15 manual that is Special then a normal manual it also serves the guests providing exact facilities. Airbnb and Hearst tie-up with a motive to make the tourists feel that they belong to that special site they visit.
Dedicated Business Managers
Airbnb has its standard and features in delivering perfect services to their users. Airbnb has a dedicated business manager who travels to their hosts to check the facilities, home type, Check-in, evaluating user reviews to provide an appropriate response to the user reviews.
Marketing Traits of Airbnb
Airbnb has a business motive " the customer is the king". An Airbnb customer is a person who indicates the organization's income. Either it is the host and or it is users. Customer satisfaction plays a keen role in creating brand awareness and exposure of a business. The way Airbnb handled users' reviews and ratings of their services and diminish the error with positivity, as a result, attained ample of users. There are powerful factors that create branding are:
Word of mouth
Digital marketing
The promotion offers and coupon codes.
Social media, refer and earn.
Affiliate marketing
Turnover of Airbnb
In March 2019, the company was estimated $31 billion.
Airbnb is available in 34,000+ cities across 190+ countries. The company has 1.5 million property listings and has served more than 35 million guests to date. The places listed on Airbnb have served 6,000,000+ people for their stay at pleasure.
The future of Airbnb
Airbnb is already a multi-billion dollar company almost available in all over the world. People prefer this platform over hotels for its unique service facilities with user desire. It is now analyzing to further increase the daily deals on its platform.

If you have a dream of starting a rental website like Airbnb?
Get the free Demo of our Airbnb Clone Script!!
Live Demo
Copyright © 2021 Rentisto | All Rights Reserved