Start a Website With Mobile Apps like Airbnb for Pet Sitters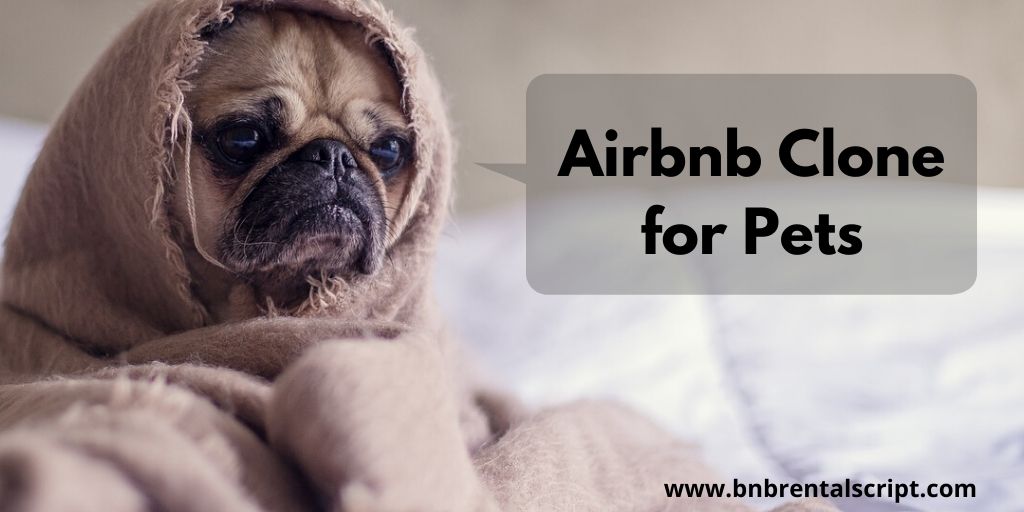 If there is a need it will find its way out. In today's digital world every mode of our life's styles changed into a digital manner. All our goods and services are available in the online market, then why not for our pets?
Airbnb clone Script for pets is an Online market place where pet owners can select the pet sitters available for their required criteria.
As you all well aware of the Successful Business Model of Airbnb.
Pets at homes are difficult to handle while they were planning for vacations and weekly outings. Taking pets with them to all the places is not Fair.
We offer Airbnb clone scripts for the Vacation Rental Script, Online Rental Booking Script, Boat Rental Script, Car Rental Script, Property Rental Script, Holiday Rental Script, House Rental Script, Apartment Rental Script, etc.
Why start Airbnb clone for Pets?

As you all know that Airbnb for vacation is helpful for the people's vacations, and Airbnb Clone for their pets would surely help them for handling their pets during vacations.
Airbnb clone website for pets will be an online marketplace to find the homes for the pets and this will connect the pet sitter with pet owners who are looking right place for their pets.
You may start earning from your website with the help of this pet sitter Business where you are not going to handle pets, only you are going act as a bridge between the pet owners and pet sitter.


Highlights of our Airbnb clone for successful Pet sitter Business
Pet owners Requirements
A home where their pet can stay (dogs flourish on social interaction with people and other animals)
A sitter who will come stay at their home (great for high-need pets or those who do better in their surroundings)
A sitter to come in daily (great for cats, fish, birds, lizards and the like who do okay by themselves most of the time)

Website Design:
Your Website must be user-friendly and customizable to you.
User App:
Easy Login- Free Login id for every user on your site.
Verification Option-Once they get booked for a particular service they will get a verification message from admin.
Secure Payment-The payable amount is paid through the secured gateway with various payment methods.
Reviews and Ratings- Users can able to review and rate the service offered in your site.
Flexible Reservation- Able to Book the service in advance as per their requirement and availability.

Host App: where Admin can organize the website, where you can post ads for pet sitter profile, Ads for the required pet sitter at a particular location.
Offers- admin can display exclusive offers, great discounts, and promotional coupons.
List Your Service -the admin has the right to list any number of their services at zero cost and manage them hassle-free.
Transaction History -The host can view and download details of entire transactions which has been done.
Manage Pet sitter Details-Admin can organize the pet sitter profiles, update their availability status.
Listing Management - Without any limitations, admin can add, delete, and update the pet sitter lists.

Pet sitter Dashboard: Pet sitter can display their services.
Duration of Service-How long it will take care of a pet.
Types of service- kinds of services available for pets.
Types of pets - Types of Pets Services(cat, dog, birds, etc)
Location- Locations of the pet sitter.

What are the sources for ROI?
Registration fees- User registration fees
Listings Fee- Fee for a listing the pet sitter
Ad banner fee- publishing featured ads on the website.
Verification fee- Verification for provided service.
Commission- Commission from the booked service on your website.

Why aid with Rentisto for Airbnb clone script for pets?
Expanding on the Airbnb business model, the Airbnb clone script also includes other options.
White label solution
A white label solution is used to set your price for the service, select the type of language, customize your website with your design logo, and brand awareness.
Analytics report
You can collect transaction history. Our special analytics can help you to take a detailed report of your business performance.
Technology Stack
We provide Airbnb clone scripts for a pet sitter with the help of following technology stacks.
Airbnb clone scripts must able to handle the number of requests from different types of mobiles and web browsers.
Your website must be optimized to Desktop as well as for the Mobiles.
Web stacks are used to create real-time websites with push capability and to handle backend, and it has Advancement in handling real-time requests at the website to organize the database in the server.
Our Available Web Stack is as follows;
Laravel
Mongo DB
Node js
Express Js
Jquery
Mysql
Mobile stacks are used to build the user interface and frontend functionality of the application.
Our MoBile Stacks include;
Php
Angular Js
Codeigniter
Html5
CSS 3
Bootstrap
Spring.

Rentisto- The Best Airbnb Clone Script Development Company, we provide a 24/7 support system for our clients. we have certified developers team, who have in-depth knowledge in developing and deploying a successful Airbnb Clone Scripts for Pets.
Planning to Start Website with Airbnb clone Script for Pets.
Feel Free to contact us and Get Free Demo..
Call / WhatsApp: +91 6384088485
Email: [email protected]
Skype: Solution Monster
Live Demo
Copyright © 2021 Rentisto | All Rights Reserved