Instant Online Movies and Events Booking Script like Airbnb.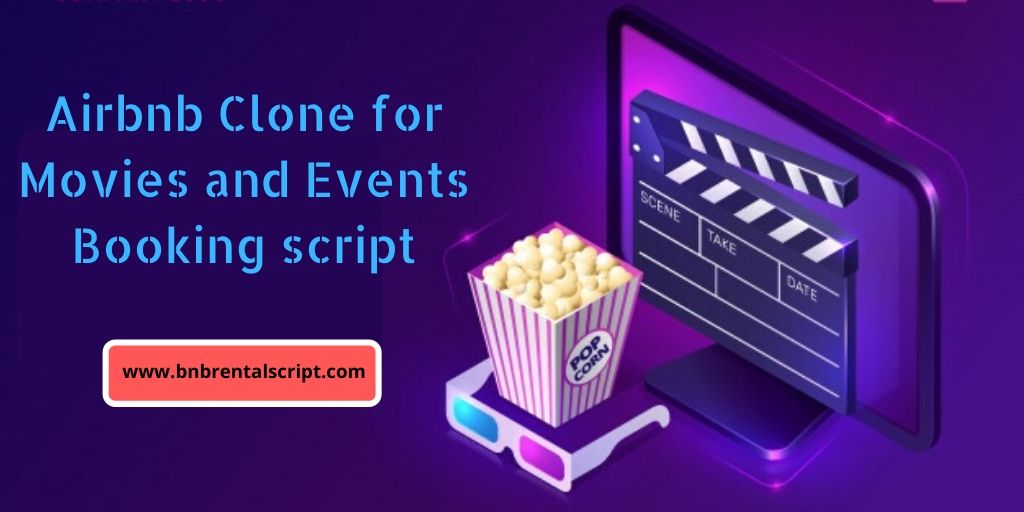 The world is full of digitalization, where we all have smartphones, paying bills and utilities, ordering food, booking cars and books, etc. Even though we all are in a busy schedule no time to spend with our family and friends but peoples prefer to go for movies and events like concerts. There is a various online marketplace for our day to day needs. why not for Movies and Events? yeah!!!
You can start your online Website for Ticket bookings for movies and events like concerts. If you have the plan to start an online platform for booking tickets for movies and events. Go for a Well structured Website script that has advanced features and with a successful business model.

Airbnb is one such business model that has a huge reputation and well enhanced online marketplace for vacation rentals, booking rooms, etc. Airbnb has been started as a small business and now it is rooted globally with a bunch of products integrated inside the Airbnb Brand.
We provide Airbnb clone for movies and events booking script with advanced features and enhanced security.
Airbnb Clone for Movies and Events booking script

Online Marketplace for booking movies and events booking tickets, where the users can search, find and book the tickets and shows available at your website. you can have a tie-up with theater owners and event sponsors.

Monetization strategies

The monetization revolves around the Commission fee for each booking held on websites. you can also book the bunch of tickets in advance and fix the rate at for retailing to your users on your website.
You can also an extra charge for first shows on movies, booking tickets in advance for demanded movie shows for big hero's film.
You can also charge for featured events like cinema award function and dance concerts.
Available Movies and Events Booking platforms
There are ample of platforms for bookings movie tickets and cricket game match available like
1. Bookmyshow.com
2. Big cinema
3. Movietickets.com
4. Chalcinema.com
5. Ticket4u.in
Enhanced Features of our Airbnb Clone Script
We have enhanced feature in our movie and event booking script with exclusive Webdesign with
· Advanced UX/API module,
· User APP,
· Host App,
· Hassle-free payment gateways,
· Easy server installation,
· Geo-Location,
· Live status,
· Schemes & Packages, etc.
How does movies and Events Booking Website work?

Our Airbnb Clone for Movies and Event Booking works with ease of access to the users.
User has to get registered at on Booking website, once get registered user able to login to their user dashboard, user profiles. user dashboard where the user searches the movie tickets with advanced search options displaying the specified favorite hero's movies, like the first show, on favorite theater's, etc.
Once user selects the booking on particular date, particular show and checks the current availability status of tickets on that particular theater, if it is in available status then user can go for booking after the user request-host confirms the booking through instant notification message and after getting confirmation from the host, user is redirected to the payment gateways. after paying for booking users get a confirmation message through text message an to the registered number and emails with booking details.

The amount paid at website payments are authorized to the website admin, after the successful booking payment will be paid to the host after deducting the commission fee.

Admin Dashboard
In the admin login, the admin authorized to perform all the back-end functionalities. There is a lot of responsibility for the admin to set up to supervise the performance of the entire website along with the listed hosts & the users of the website. The admin is the one who has full authentication of the website & the overall sales that are occurring. The panel gives access to the admin to view & also to edit the required features based on his interest.
The admin dashboard has the following Properties & segments for the admin to maintain & manage.
· Management
· Members
· Host
· Finance
· List
· Accounts
· Booking Status
· Listing
· Coupon Codes
· Manage Static Pages
· Manage City
· Commissions
· Payment Gateway
· Manage Language
· Slider
· Review
· Currency
· Backup
The panel gives access to the admin to view & also to edit the required features based on his interest.
Starting online movies and events booking websites in the current scenario are going to be the backbone of your startup for innovative business ideas. In the present lifestyle peoples, likes the ease of accessibility of the services at their comfort zone android/ios devices.
if you have an idea of launching one such Website for Booking movie and event tickets, contact our experts and get clarify your doubts.
Get Free Demo of Airbnb Clone Script for Movies and Events Booking!!!
Live Demo
Copyright © 2021 Rentisto | All Rights Reserved