Flexible Furnishings for your carefree lifestyle- Online Furniture Rental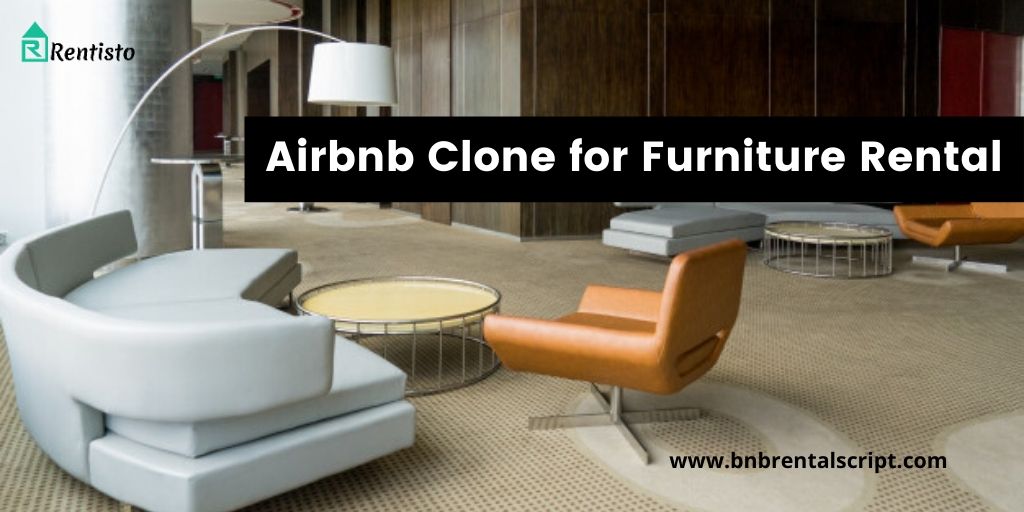 As our lives are running around the busy schedule, we all depend upon the online services to get done our regular routines with ease of Online Rental Platforms. Starting online Rental business is the best way to cope up with this digitalized world. As people are fond of online services available to them at their smartphones/laptops at affordable rates and no need to rely on agency/direct services. Technology acquired many simple solutions and earned people's consideration.
As all the goods are available in online rental platforms, why not for Furniture? yes!!! there are demands for items of furniture for rentals like commercial purposes like events, occasion, college day functions, and office furniture. Airbnb is a successful online rental business for vacation rental. started as a small scale has attained peak and widely spread all over the world.
Here arises the idea of starting an online rental platform for furniture rental business.
What is Airbnb Clone for Furniture Rental business?
Airbnb clone for Furniture Rental Business where users can search, find and book items of furniture required from the wide range of unique furniture items listed out by the individuals or retail store.
Why start Airbnb Clone for Furniture Rental business?
As we know, In urban cities getting furniture for occasions is the most difficult one in the seasonal timings. If you wish to make a solution for this problem at the same time you wanna earn money means, you can start with the best Furniture rental business like Airbnb
As the Demand increases, the furniture service providers blending many new features and offers to gain users. Even Airbnb gained fame when they started offering a rental service. Slowly, Airbnb has become the most successful in a wide range of services for vacation rentals globally. Airbnb Revenue is $2.6 billion, Operating income is $450 million, Net income is $93 million in the year 2017, and has 12,736 number of employees in 2019.
How Airbnb clone for Furniture works?
In the Online rental platform user as well as owners need to get registered and verified on the website. After verification owners can list their items and users can search, find book the required items listed on the website. The user pays the rental amount after confirmation from the item owners.
Monetization Process
Undoubtedly, Furniture rental business also generates revenue like other Airbnb rental marketplace as following
Transaction fee
When the payment is proceeded by users to admin, the desired amount is transferred to the furniture owners.
Membership model
Furniture management can provide membership for the furniture owner and offers & packages advantage like giving priorities to unique items and faithful customers.
Commission
The admin who is the management of the rental system takes the specific amount from the total booking of all users. this is how the revenue generates
Eminent Features of Our Furniture Rental Script
Customizable Design
The Furniture software is fully customized and also the software can be customized according to users requirements and needs in the market with website theme can be changed to the most appealing display
Enhanced Security
While starting an online business, there must be secured transactions and safety of the details provided by users & owners. In this aspect, our script made with enhanced security features to handle the user and owner's information.
Responsive Design
The main point to increase user volume, the script must be responsive in Windows and Android/ios. Our script performs high-level user-friendly on all platforms.
User-friendly
The owners and users both have facilities to manage reservations and monitor easily. The users able to use advanced search options to book the furniture for rentals and also where users can get a notification, easy payment methods, provide reviews and ratings.
Booking Schemes
In the Furniture rental website, the user can book Furniture items for an hour, a few days and a month just selecting the range.
Offers and Coupons
Grab your user by providing discounts and coupons option to boost your user commitments.
Furniture Rental software- generates high level customized software. The Furniture rental management software helps to increase revenue in your business with bug-free code and easy installation that suits the needs of customers and the market. Finally, with a safe transaction of payment methods.
Why bid with our Airbnb Clone Script for Furniture rental?
We have certified developers and have 5+ experience in developing Online Rental Script for various products. Rentisto offers free server installation, free app registration, 24/7 customer care support, 100% customized software with a bug-free, robust Webdesign, Enhanced security features.
Get Free Demo of Best Airbnb Clone Script for Furniture Rental!!!
Live Demo
Copyright © 2021 Rentisto | All Rights Reserved