Airbnb Clone for Car Rentals - Start Your Own Online Car Rental Business Instantly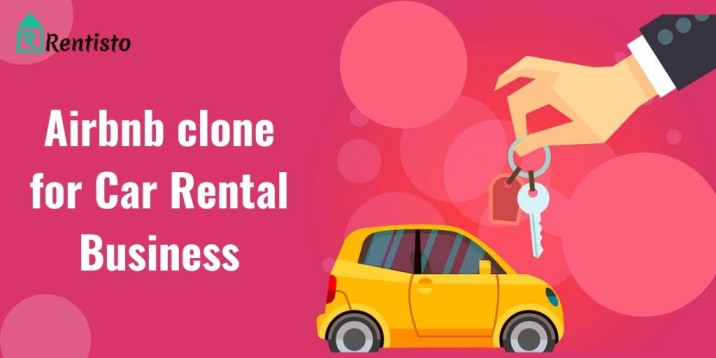 Rentisto- The Best Airbnb Clone Script Development Company, we provide a 24/7 support system for our clients. we have certified developers team, who have in-depth knowledge in developing and deploying a successful Airbnb Clone Scripts for Car Rentals.
we offer an Airbnb car rental booking software that enables you to run your own online car rental business that helps your customers to search, find and book various cars.
We are going to discuss a new project Airbnb clone for car rental business.
Let me tell about the basic information about the Airbnb clone script before, move to the main topic.
Airbnb clone script is available for multiple businesses like car rental, hotel rental, space rental, book rental, etc.
In recent times owning a car has become a passion for the present generation, for maintaining those cars is quite difficult due to space and other issues. The cars rental ideas spread out to the younger entrepreneur generation minds.
In today's economic world owning a car has become easier due to the availability of car loans. To pay back those loans or interest amount they go for renting cars for occasions, functions, official arrangements. The Renting single car has become a part of earning and it leads way to many Taxi apps, taxi tracking apps.
Now, I think You understand the uses of Airbnb car rental clones in the real business world.
Are you planning to start a car rental business?
To start a car rental business, whether it be seasonal or full time, there are few things you must keep in mind before starting a car rental business.
I know your brainy mind is eager for the answer here is a few steps to follow in your business journey.
· Business Model
· Revenue Model
Business model
There is a lot of rental ideas in car rental business like seasonal rent, festival rent, celebrated rent, etc.
You need several car rental packages to attract more customers but, the fact is renters can pay the amount only how much of the time they used cars.
So, this is the right time for you can be committed to providing digital solutions to your customers to book a rental car online with free registration, special price offer package, and Android /Ios application user can enjoy your rental experience with our hassle-free Script.
Revenue Model
All business model has a revenue model but, the question is How can get the revenue from car rental business?
One of the primary income for car rental software is commission.
You can get the half amount of commissions through price package booking a car for rent various from old, new , trend cars.
You can earn money through an affiliate program where your customer shares your branded website link in social media or they can create banner car ads to improve visibility of the business.
There is a lot of business revenue model are available.
We are here to explore the more profitable gain-able business model.
Source: Ohto Rainio
Why an Entrepreneur is ready to buy the Airbnb car rental clone software?
I already said above our discussion, Airbnb is a brandable product for every rental business we used in real-world entities.
The Airbnb car rental business spread like bomb blast manner they reach the millions of businessmen in short durations.
Once again I am glad to say we are the rentinsto family provide the Airbnb car rental clone script.
We create the car rental clone through these different phases
1.Planning stage
2.Design phase
3.Development phase
4.Testing phase
5.Quality testing
6. Product deliverable stage
What are the specifications of our Airbnb car rent clone script Blooming your business?
Security
We provide unhackable and double-layer security for online business websites and applications.
Dashboard
I have explained what are the key features in our Clone Script
Admin- One who Owns the Website and full control over the Website
Vendors- One who rent their cars(Car Owners)
Renters- One who seeks car for rental(user)
Website Design
It is very important to design your site as user-friendly. Users should not feel difficulty in bidding on your site.
Website impression is foremost important for users, they should feel the satisfaction on your site.
Salient Features of Car Rentals Website Script
Here we have mentioned bellow
Login, sign up.
Fill out the user profile
Type of cars user (who wants the car can bid with your site)
Different types of Payment options.
Book car (to take a car for rental)
Booking car cancellation, change the car.
Customer reviews(After completing the car journey)
Customer support(toll-free, chat, mail, instant call)
We provide Android/Ios Application for your Car Rentals Website
The dozens of people use their smartphone in a fraction of seconds. The Ample of users using Smartphones for Booking Car online. To Compete in the Business your Website must be Mobile Optimized. we provide the Airbnb car rentals clone app
We have provided a successful Airbnb clone Script for Car Rental Business for ample of entrepreneurs in the past few years. They all are Running successful Car Rental Business with our Airbnb clone Script.
Having a plan to start Car Rentals Business With Our Airbnb Clone Script.
Get the free demo of our airbnb car rental clone script!!
Call / WhatsApp : +91 6384088485
Email : [email protected]
Skype : Solution Monster
Live Demo
Copyright © 2021 Rentisto | All Rights Reserved