Adventure Outfitter- Airbnb Clone for Camping Gears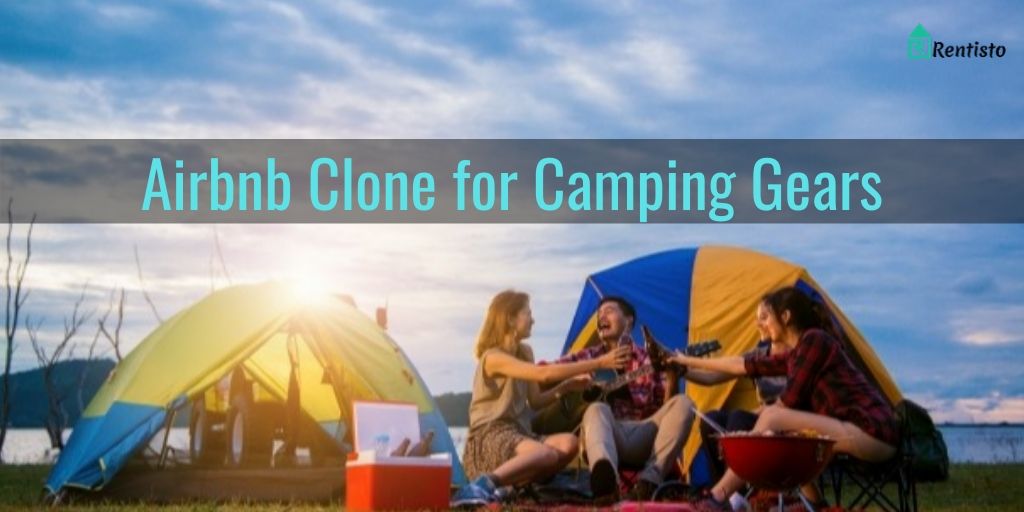 In Our Digital world, each and everything is gets done with the help of service providers. we have Applications to fulfill our demands with the help of available rental services like food, cars, and tools & equipment at our doorsteps.
The Rental services are available for Cars, Boats, Petsitter, Food, Space, Tools&Equipment, and Language, etc. with the idea of Airbnb business model, we can provide services like Camping gears rental as Peoples don't have to own or maintain the Camping gears for the temporary usage.

What is Camping Gear Rental Business?

Camping gear rental business is a different business upright which is facilitated by the Airbnb business model.
Building a Camping gear Online Rental Platform where users able to search, find and obtain the best camping gear for their trip. camping gear business to rent out from individuals or the rental shop is the best approach.

How does Camping Gear Rental Business Works?

Camping Gear rentals where users and hosts need to register, get verified. Once a user gets verified can login on the website can search for camping gears, book it. Camping gear owners able to list the gears and their features. once owners accept the request of the user and it is get notified to the users via the website. After getting confirmation user pays the rental amount with available payment methods on the website. After completion of the rentals, admin will transfer the rental amount to the gear owners after deducting their commission fee.

Why start Airbnb Clone for Camping gears?

Like many travelers, People enjoy preparing for a trip — they like making lists, packing the right gear and predicting probable situations. they love starting on a journey knowing they are equipped well. But the Airbnb website made them thinking about what it would be like without hours of preparation and post-trip cleanup — which is exactly what traveler intended.

they didn't hose down a muddy tent, didn't soak a clumsily washed, and certainly did not empty a cooler or clean out a car. Instead, Peoples want to enjoy their adventure journey with a well-equipped manner these arise the Need for Camping gears rentals.

Features of Airbnb Clone script for Camping Gears

Calendar
The host update the availability dates of the Camping gears, once booked gears are in out of availability. it allows user to desire the trip dates according to the status.

Amenities
The owners list amenities of camping gears like Cooler, Sleeping Bag, Water Bottle, Flashlight, Multitool, Survival Kit, Tent, Water Purifier, Camp Stove, First Aid Kit, Mess Kit, and Map.

Reviews and Ratings
Users and Owners can provide ratings and reviews on the website, this may help to improve the service facilities and handling procedures of the camping gears.

Payment Method
The user has to pay for the confirmed request through the secured gateways available on the website. so that owners make the updated status of the availability on the website. once paid gears are reserved on those dates on the website.

Neighbour
The website can list the adventure areas and the surrounding background of the tourist spot and available camping gear facilities for user ease.

Android and iOs Mobile Apps
Our script comes along with native Android and iOS mobile apps which complements the web applications. As the usage of mobiles is increased to a vast extent. Your website must be able to handle ample requests through a web application as well as mobile applications. So you get easily benefitted from this Airbnb clone script for your camping gear rental business.

Monetization
The Rental website is a great idea for an investment to build a robust website. Here, neither going to own gear items nor Maintaining it at your location. your website is going to act as an interface between the user and owner. You can get primary revenue from Commission fee, listing fee, packages, and featured ads, etc.

why bid with Our Airbnb Clone for Camping Gears?

Our Airbnb clone script allows you to create an online rental website for your business by incorporating all the peculiarities of Airbnb. This script permits to list out camping items with its types, features and price range and so on. With the right website and mobile technology, Rentisto offers the Airbnb Clone script to launch a successful online rental camping gears business.
Schedule an Appointment, To Avail Free Demo of Our Airbnb Clone for Camping Gears Script!!!
Live Demo
Copyright © 2021 Rentisto | All Rights Reserved